Marty v2 - Robot Description

Marty is a proper Walking Robot with Legs & Feet — With 9 Servo Motors and a handful of built-in sensors, Marty has a much more interesting way of moving than just rolling around!
Movement: Walking, Dancing, Turning, Kicking. Marty's unique leg design makes a swagger like no other Robot.
What is Marty?
Marty is a real robot designed to help teach coding to kids, for the price of a smart toy. Marty comes as a kit or pre-built, so you can either choose the fun of building a robot, or to just jump straight-in to playing and coding with your new walking robot companion.
Marty is Wi-Fi enabled and with nine individually controllable servo motors. You can use our app to remote control Marty, and add a bunch of sensors to react to the environment — Marty can walk, turn, dance, even kick a football!
You can program Marty using Scratch, a beginner friendly coding language, and then advance on to Python, Javascript, and even up to professional level with a Raspberry Pi and the ROS Robot Operating System- with a camera your Marty could play football autonomously!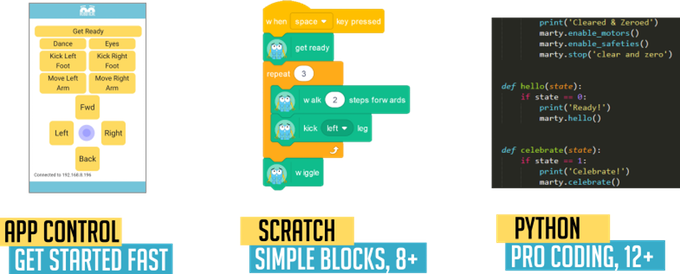 Marty is supported by fun and engaging online tutorials and a fast-growing and inquisitive community. Every Marty the Robot comes with a 2 year warranty, and we're always here to support and help.
Marty the Robot makes learning about coding, electronics, and engineering a fun, challenging and engaging process. Designed to be customisable robot with 3D printed parts, Marty is also completely upgradeable — you can even add a Raspberry Pi and a camera to Marty's head!
All packs include everything you need to build and program your very own Marty, including a screwdriver, rechargeable battery and USB charger.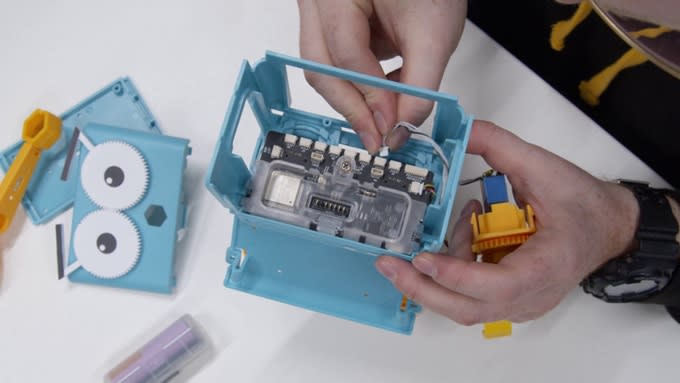 The Mechanics of a Marty

No other robot in the world walks like Marty. The unique three motor and spring leg design makes a walking, dancing, sidestepping, turning, kicking robot that is super energy efficient and easy to use. With moving arms and changing expressions to complement this swagger, Marty is a robot with character.
Who is Marty for?
Marty the Robot is for anyone, young or old that wants to learn how to code, and for teachers, educators, friends & family that want to help.
Marty in the Home
Build the kit together - everything you need is included. Start programming with Scratch, improve and progress on up to coding in Python, JavaScript and more.
Marty is a perfect creative gift that offers a lot to learn.
All the same activities and lesson guides for Educators are available to everyone that buys a Marty.
Marty for Educators
Marty is an engaging tool for bringing Science, Technology, Engineering and Maths to life — and let's not forget arts and creativity too!
Teaching digital skills and coding is now a vital part of education. Adding a physical aspect like Marty helps engage learners that might have otherwise taken no interest in code.
Marty is a flexible learning tool that grows with your students: Marty can be used from ages 10 to 18+, introducting programming at Primary School, all the way up to University level courses.
Free Lesson Plans and activities are included to help you deliver a great experience with Marty. Our Education packs come with multiple Martys and equipment to help you get set up at school.