Marty v2 Edu 10-Pack Description

Marty is a proper Walking Robot with Legs & Feet — With 9 Servo Motors and a handful of built-in sensors, Marty has a much more interesting way of moving than just rolling around!
Movement: Walking, Dancing, Turning, Kicking. Marty's unique leg design makes a swagger like no other Robot.
What is Marty?
Marty is a real robot designed to help teach coding to kids, for the price of a smart toy. Marty comes as a kit or pre-built, so you can either choose the fun of building a robot, or to just jump straight-in to playing and coding with your new walking robot companion.
Marty is Wi-Fi enabled and with nine individually controllable servo motors. You can use our app to remote control Marty, and add a bunch of sensors to react to the environment — Marty can walk, turn, dance, even kick a football!
You can program Marty using Scratch, a beginner friendly coding language, and then advance on to Python, Javascript, and even up to professional level with a Raspberry Pi and the ROS Robot Operating System- with a camera your Marty could play football autonomously!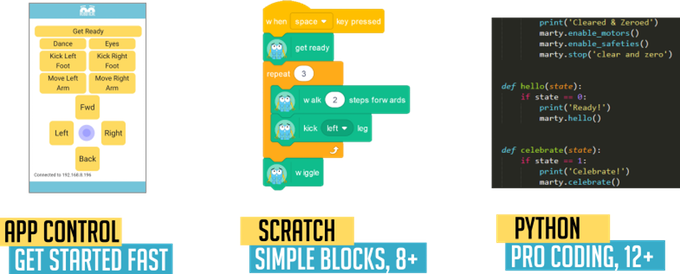 Marty is supported by fun and engaging online tutorials and a fast-growing and inquisitive community. Every Marty the Robot comes with a 2 year warranty, and we're always here to support and help.
Marty the Robot makes learning about coding, electronics, and engineering a fun, challenging and engaging process. Designed to be customisable robot with 3D printed parts, Marty is also completely upgradeable — you can even add a Raspberry Pi and a camera to Marty's head!
All packs include everything you need to build and program your very own Marty, including a screwdriver, rechargeable battery and USB charger.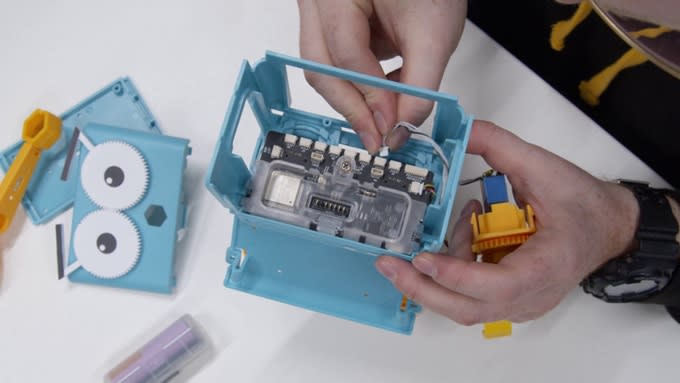 The Mechanics of Marty v2 Edu 10-Pack
No other robot in the world walks like Marty. The unique three motor and spring leg design makes a walking, dancing, sidestepping, turning, kicking robot that is super energy efficient and easy to use. With moving arms and changing expressions to complement this swagger, Marty is a robot with character.
Who is Marty for?
Marty the Robot is for anyone, young or old that wants to learn how to code, and for teachers, educators, friends & family that want to help.
Marty for Educators
Marty is an engaging tool for bringing Science, Technology, Engineering and Maths to life — and let's not forget arts and creativity too!
Teaching digital skills and coding is now a vital part of education. Adding a physical aspect like Marty helps engage learners that might have otherwise taken no interest in code.
Marty is a flexible learning tool that grows with your students: Marty can be used from ages 4 to 14+, introducting programming at Primary School, all the way up to University level courses.
Free Lesson Plans and activities are included to help you deliver a great experience with Marty. Our Education packs come with multiple Martys and equipment to help you get set up at school.
What's in the box?
Marty v2 Edu 10-Pack
A pack of 10 assembled Martys with a bunch of extras to help with use in the classroom. Includes Command hub for hassle-free connectivity, multi-port external battery charger, robust storage tubs, and distance and colour sensors. Suitable for up to 30 Students.
2 Battery Charging docks, each with 5 slots
10 spare Batteries
2 Distance Sensors
20 Infrared (IR) Obstacle Sensors
10 Colour Sensors
Printed Educators Guide
Stickers to customise each robot
Coloured Coding Cards for Screen Free coding with the robots
 This table shows the different options you can choose. And below it, there are a few useful things to bear in mind.
Delivery option

Price

When it arrives

Order by

Standard UK Delivery

£3.99 or

FREE on orders over £50

2-4 business days (except bank holidays and weekends) between 8am - 8pm.

11:00 a.m.

UK Premium Next Working Day Delivery

£6.99 or FREE on orders over £50

Next business day delivery (except bank holidays and weekends) between 8am - 8pm.

 11:00 a.m.

International

From £19.99

Please email us and we will find the best and cheapest shipping option for your needs.
If you're out when our courier attempts delivery they'll leave a card to let you know
If no one answers the door when our courier attempts delivery they'll leave a card letting you know they've been and which of the following actions they've taken
Attempt re-delivery (Delivery will be attempted 3 times in total)

Leaving your order with a neighbour

Leaving your order somewhere safe on your property
Please note certain items will require a signature as proof of delivery.
You can ask for your items to be delivered to your work or another address
Just select the delivery address you want when you place your order

You'll need to make sure that the address given is able to accept the delivery and has space for the delivery vehicle

Please note we do not accept deliveries to PO Boxes

Orders can be delivered to freight forwarding companies, Hotels, Storage and relocation companies who you give permission to take the order on your behalf

Please note we will not refund you for anything that gets damaged or lost after we have successfully delivered it to your selected delivery address

We'll need your billing address to process payment
We try our very best to be on time – but don't always manage it
We do absolutely everything we can to make sure your order reaches you on time. But there are all sorts of unforeseen problems that can prevent that – including breakdowns, extreme weather and illness. We're sorry if we're late.
We can deliver the majority of our products, to most countries around the world.
Please email us at info@robocube.co.uk and will find the best and cheapest shipping option for your needs.
Returns
We are happy to accept back any unwanted items supplied to consumers for refund, within 28 days of purchase, providing the following terms are met:
All packaging must be intact so that the item is in a re-saleable condition

You are able to provide a valid proof of purchase – this can be your confirmation email or the invoice/packing note inside your delivery parcel.

Return postage costs are covered by the customer (please also note that your original postage charge will not be included in the refund.

Entertainer Gift Cards are non-refundable.
It can take up to 10 working days to receive the funds back after we have issued your refund.
​ 
Faulty items
If you have bought an item from us that proves to be faulty, please let us know as soon as the fault becomes apparent so we are able to help.
You must be able to provide a valid proof of purchase – this can be your confirmation email or the invoice/packing note inside your delivery parcel.
We reserve the right to test the product before accepting it back for refund or replacement.
Free delivery included.
Although our electronic toys are covered by a year's warranty.
We love email. Send us a friendly one with a little about what you're looking for, and we'll be happy to answer questions and help you figure out what best fits your needs.


What to expect: One of our education experts will respond to your email within a 48 hours, or sometimes a few seconds. Depending on the information you provided, we may ask a few additional questions or provide you with some information of our own. After that, let's see where this goes… ❤️🤖
Monday to Friday 8:30am to 5:30pm
Email us:
General questions - info@robocube.co.uk 
Order enquiries, purchase orders - sales@robocube.co.uk
Your friendly, non-robotic ROBOCUBE customer service staff is happy to help!
Contact a Rep
Have any questions about robots or STEM kits? Talk to our non-robotic customer service staff and get the answers you're looking for.